DynaQuest and Khyutee On Duty is having a giveaway that will let you win: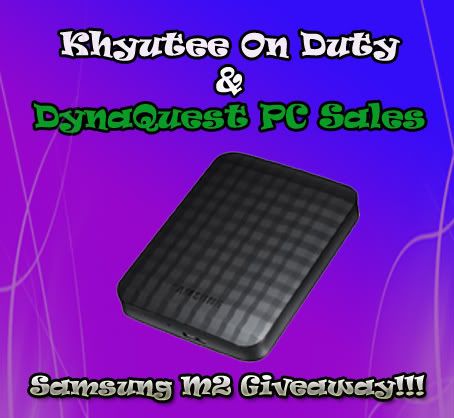 Samsung M2 500GB USB 3.0 Portable!
5. Post this on your facebook wall publicly: "
@Dynaquestpc & Sales and @Khyutee on Duty is giving away a samsung m2 500gb USB 3.0 Portable
" Share the love and
tag three of your friends
in your post.
7. Follow

Khyutee On Duty

on

twitter
8. Tweet about this giveaway: "
Join @JCnQT first giveaway and get a chance to win 500GB USB 3.0 Portable. #DynaQuest http://khyutee.wordpress.com/2011/11/12/dynaquest-and-khyutee-on-duty-giveaway/
"
9.
Comment with the following format:
FB Name
FB Like Link URL to get the FB Like Link URL, refer to (#1)
FB Post URL (#5)
GFC Name (#6)
Twitter Username (#7)
Tweet Link (#8)
For more details, please click here. Goodluck everyone!